We Are the Monsters
Colette Sadler – Stammer Productions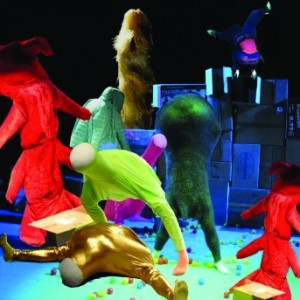 Booking required for workshop due to limited capacity
No two people – or monsters – are exactly the same. Come meet some scratchy, shimmering creatures and shiny mini-monsters, playing and interacting with one another, their arms and legs moving in strange and impossible ways. We are the Monsters is a humorous dance performance and workshop for children, aimed at portraying and discovering the monster hiding in all of us!
Performances from August 18th – 21st followed by a 45 minute workshop for children aged 4-9, using movement, music, images and props to explore the idea of what makes bodies different.
Tickets for the workshop are available through Eventbrite here
Part of Made in Scotland Showcase.
Reviews
"Don't let any children in your life miss this astonishing 35 minutes of undiluted madness!" - EDINBURGH GUIDE - Link