#TORYCORE
Lucy Ellinson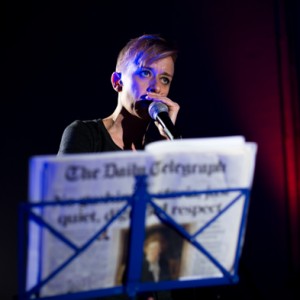 Extremely loud music, please ensure if bringing children that their ears are protected.
What better way to underscore Conservative economic policy than with the sound of PURE EVIL?
Part metal-recital, part exorcism, #TORYCORE combines sludge and doom metal with the Budget speech 2015; a pounding subverbal deathgrowl with text from the  blue suits at Tory HQ.
Chris Thorpe and Steve Lawson on guitar
Lucy on vocals
Lyrics by George Osborne and the architects of austerity
#TORYCORE is twisted avant-garde metal and a guttural vocal that plays like a verbatim record of a government ripping society's guts out.
Created in association with Forest Fringe Winner of The Arches Brick Award 2012  Performed in solidarity with Black Triangle campaign – in defence of Disability Rights.
FREE/PAY WHAT YOU CAN
Unemployed/disabled: £0
Employed (suggested donation): £5