The Paradise Project
Third Angel and mala voadora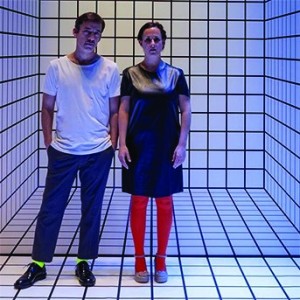 Imagine a place better than where you are. Every day they come in and try again. They try to figure out how to live together. They start to build something that will never be completed, at least not within their own life times. And everyday it works. Or it doesn't. Well, it depends how you measure it.
So today, today they will try something different. The Paradise Project is full of wit, intelligence and humanity.
Join Third Angel (Sheffield) and mala voadora (Lisbon) for a show about following instructions, inventing your own rules, and keeping trying.
A co-production with Warwick Arts Centre, Maria Matos Teatro Municipal and House on Fire, with the support of the Culture Programme of the European Union. The Paradise Project is a Triggered@Warwick project and is supported using public funding by the National Lottery through Arts Council England
Reviews
"Killick and Sampson are an endearing and consistently engaging double act" - Link

"It is a slippery hour of theatre, but absolutely made by performers Stacey Sampson and Jerry Killick." - TIME OUT - Link