My Name is...
Tamasha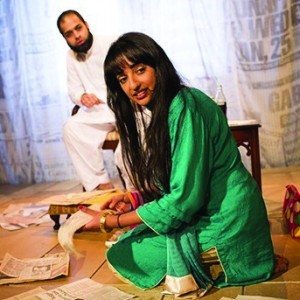 Please select a performance and hit 'Book Tickets'
Discover the story behind the story that hit headlines in 2006.
When Gaby disappeared from her Scottish home, it was assumed that her Pakistani father had kidnapped her and the spiralling headlines were only momentarily silenced when it emerged that Gaby may have fled of her own accord. To her mother Suzy's distress, Gaby declared: 'My name is Ghazala', and turned her back on Gaby and seemingly, the West.
"Humorous and entertaining." ★★★&#9733 Time Out
"Absolutely gripping … a drama of terrific integrity.' ★★★★ The Scotsman
Written by Sudha Bhuchar. Directed by Philip Osment. www.tamasha.org.uk
Reviews
"presented with extraordinary balance and insight" - THE SKINNY - Link

"Absolutely bloody excellent." - EDINBURGH49 - Link

"Umar Ahmed and Rehanna MacDonald impress as Farhan and Gaby / Ghazala, and Karen Bartke's turn as Suzy is particularly heartbreaking." - THE LIST - Link

"This is an impressively serious contribution to a Fringe that has a tendency to be frivolous whenever the opportunity arises." - BRITISH THEATRE GUIDE - Link