Going Viral
An ARC Production written and performed by Daniel Bye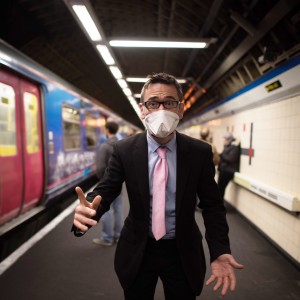 A new virus has broken out. Everyone in the world starts weeping. What now? Going Viral is a show about how things spread.
Drawing on the science of epidemics, it explores the spread of disease, of panic, of ideas. It shows how our society reacts, and how our connected world makes us all more vulnerable, and more human. How do you behave when it's impossible to tell symptoms from distress? Is panic airborne too? What's spreading through this theatre, here, today?
Going Viral is a new development in Daniel's trademark blend of comedy, storytelling and performance lecture.
Reviews
" It's by turns fascinating, terrifying and thought-provoking and Bye engages and implicates us with an unaffected, infectious directness." - THE GUARDIAN - Link

"Structurally perfect yet endearingly chaotic" - EDINBURGH49 - Link

"Going Viral is so thoroughly teeming with fresh ideas and ingeniously framed perspectives." - THE STAGE - Link