Antiwords
Spitfire Company in association with Aurora Nova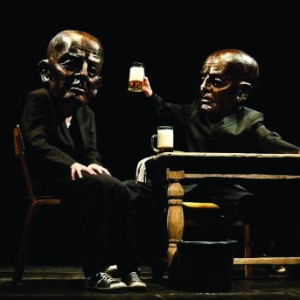 Internationally acclaimed performance from Herald Angel Award winner Spitfire Company influenced by the works of Václav Havel, especially by his play Audience and its legendary film adaptation. What happens when a brewer and a persecuted politician, alter ego of Václav Havel himself, meet on stage? Two actresses, a case of Czech beer, huge original masks and absurd humour.
A hit in Berlin, Prague, Milan, Florence, Washington, New York, London, Peking and Oslo.
"Unique, powerful and highly recommended." DC Metro
"Artful. Brilliant. Irreverent. Simple, yet genius." DCTheatreScene.com
Part of the Czech Showcase 2015, organised by the Czech Centre London.
Reviews
"It's a funny, clever show that will not only prompt you to muse on the eternal struggle against oppression, but will also teach an indispensible phrase in Czech: mají pivo (have a beer)!" - EDINBURGH FESTIVALS - Link

"In that moment, you realise that no-one's immune: age, bitterness, loneliness awaits us all. In time, we are all bar-room bores." - FEST - Link

"The body language deployed by both performers is hilariously, accurately, expressive even when they have both sunk several pints for real" - THE HERALD

"Spitfire leave a series of lingering impressions with their audience, a compelling set of questions that forces us to evaluate the nature of artistic freedom in the face of censorship, and the ways in which the state can be subverted by self-expression. Hence the drinking." - EXEUNT - Link