Unlimited
Katherine Araniello, Richard Butchins, Nicola Canavan, Jez Colborne, Lea Cummings, Claire Cunningham, Tony Heaton, Sheila Hill, Simon Mckeown, Aidan Moesby and Pum Dunbar, Bekki Perriman, Craig Simpson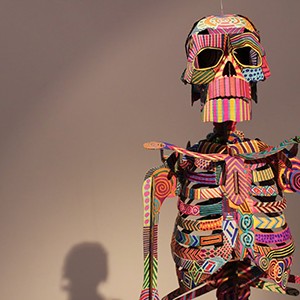 Unlimited's first exhibition at Summerhall is a series of ambitious mixed media installations by the UK's leading disabled artists. The exhibition deals with historical and contemporary issues, offering insight into the lives of others whilst also exploring topics which affect us all.
The works, which range from a sound installation echoing life living on the streets to psychedelic paintings exploring spirituality, challenge the myths which surround disability. The artists arrest misconceptions, opening up conversation around prejudice; a dedicated film space offers works on ageing and frailty, the legacy of war, and a darkly comic dinner party confronts associated clichés.
The exhibition embeds the artists' work within contemporary art practice, bringing disabled people and artists within society to the fore and, in turn, reaching new audiences and shifting perceptions.
Unlimited is a three-year commissioning and support programme for disabled artists, delivered by Artsadmin and Shape.
Artists:
Katherine Araniello, Richard Butchins, Nicola Canavan, Jez Colborne, Lea Cummings, Claire Cunningham, Tony Heaton, Sheila Hill, Simon Mckeown, Aidan Moesby and Pum Dunbar, Bekki Perriman, Craig Simpson
Image Credit: ALTAR/ER (detail) by Lea Cummings