Tadeusz Kantor: Inbetween Structures
Curated by Dr. Marc Glöde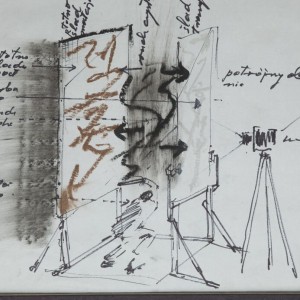 On the occasion of acclaimed Polish theatre director Tadeusz Kantor's 100th anniversary the Polish Cultural Institute in London and Polnisches Institut Berlin will bring a new perspective to Kantor's complex oeuvre. The exhibition focuses on the early phase of Kantor's career, highlighting the multi-layered nature of Kantor's work specifically in the period of 1954-1965.
At the heart of the exhibition is the rarely shown and long lost film Attention…. Painting!, which won the prize for experimental film at the 1958 Venice Film Festival. The film presents beautiful interactions between painting and moving-image, it is paralleled by Kantor's drawings, gouaches, paintings, collages, manifestos and photographs, emphasising his innovative practice – not bound to institutional norms that separate artistic mediums.
Inbetween Structures brings to the fore Kantor's forward thinking approach, examining the intersection between Kantor's visual and performance work.
The exhibition will debut at Summerhall's Fringe 2015 and then travel to Germany to the Polnisches Institut Berlin for Berlin Art Week.
The exhibition is co-produced by the Polish Cultural Institute in London and the Polnisches Institut Berlin in partnership with Cricoteka, National Museum in Krakow, Museum of Modern Art in Warsaw and Krakow Festival Office and supported by the Adam Mickiewicz Institute.
Image courtesy of the National Museum in Krakow, private collection.