Where Next for Artistic Development in Scotland?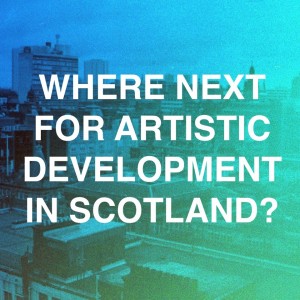 In the wake of venue closures and ever decreasing funding, artists and stakeholders are invited to discuss where next for artistic development in Scotland.
Two separate (but linked) forums will allow open and honest discussion about the needs of artists, what is lacking from Scotland's performing arts ecology and what other producing and development models might have a place in Scotland. Each event will feature a variety of invited guests from across the industry, but discussion is open to all who attend and contributions are welcome.
Curated by Callum Smith with support from Xavier de Sousa, Verity Leigh and Miriam Attwood.
24th August, Old Lab, 5.00pm (1hr)
In Scotland's current climate, what support do artists need?
What support do artists currently have, and what is missing?
26th August, Old Lab, 5.00pm (1hr)
How do different producing models support artists, and how might they work in Scotland?
How can the current theatre ecology better serve artists, and how might artists work outside of traditional venue relationships?