Tomorrow's Parties
Forced Entertainment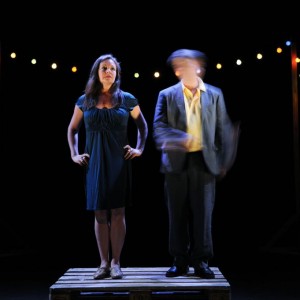 International innovators Forced Entertainment present a compelling performance that imagines a multitude of hypothetical futures. Tomorrow's Parties is a playful, poignant and at times delirious look forwards to futures both possible and impossible.
On a stage framed by coloured fairground lights, this seemingly minimal performance soon reveals itself as a low-fi theatrical explosion. Two performers enjoy the pleasure of invention as their suppositions take them in different directions. From utopian and dystopian visions, science fiction scenarios, political nightmares and absurd fantasies, Forced Entertainment deliver a thought-provoking survey of hopes and fears as they speculate about what the future might bring.
British Council Edinburgh Showcase 2015.
Tomorrow's Parties is a Forced Entertainment and Belluard Bollwerk International (Fribourg) production. Co-produced by BIT Teatergarasjen (Bergen), Internationale Sommerfestival (Hamburg), Kaaitheater (Brussels), Künstlerhaus Mousonturm (Frankfurt), Theaterhaus Gessnerallee (Zurich) and Sheffield City Council. With the support of Stanley Thomas Johnson Foundation.
Reviews