The Overcoat
Brush Theatre LLC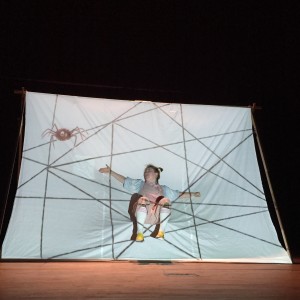 Jenny is a mischievous little girl who loves playing with her Dad. But he has to put on his business suit, pick up his briefcase and go to work. When Jenny grabs hold of his overcoat to stop him leaving, a thread unravels and becomes the start of a magical world of adventure and discovery.
Join Jenny on her ingenious journey to find out what's waiting for her at the end of the thread…
Suitable for the whole family.

"A clever, accomplished tale." ★★★★ The List (on Brush, 2014)
"An insight into Korean culture becomes a magical adventure" The Scotsman (on Brush, 2014)
Reviews
"What at first seems lo-fi, homespun and lacking direction soon becomes a touching, funny and highly imaginative show which entertains everyone, young and not-so young." - THE LIST - Link

"an expertly choreographed piece, which will appeal particularly to the under-8s" "beautifully celebrates the power of young people's imaginations" - THE SCOTSMAN