Ndebele Funeral
Smoke and Mirrors Collaborative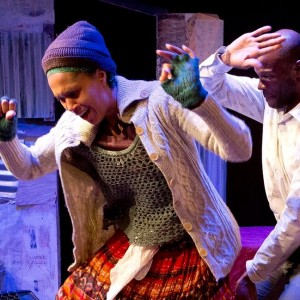 Hilariously heartbreaking, Ndebele Funeral pulls audiences into the music, dirt, and dreams of modern South Africa, by examining the aspirations and losses of three characters whose lives intersect in a Soweto shack.
Smoke & Mirrors Collaborative's powerfully physical production delves bravely into modern poverty, health care and violence, featuring original music and gumboot dancing from the mines of Jo'burg.
"…A heartbreaking yet beautiful story." nytheatre.com


"Expertly acted." The New Yorker


"This funeral comes fully and furiously alive." –The New York Times


"Ndebele Funeral is a true achievement of richness and humanity." Theater Pizzazz
</blockquote>

Winner of FringeNYC Overall Excellence Award Best Play, Critics' Pick Time Out NY.
Reviews
"Multi-disciplinary, emotionally charged experience" - EDINBURGH GUIDE - Link

"Wearing its heart on its sleeve, Ndebele Funeral is terrific theatre. It isn't necessarily an easy watch, but it is a rewarding experience." - ACROSS THE ARTS - Link

"a portrait of a fierce, clever woman who manages to affirm life by choosing death" - THE SCOTSMAN

"here is a warm closeness and smartness of dialogue in their relationship which makes this play well worth seeing." - BRITISH THEATRE GUIDE - Link

"Here is a challenging, yet colourful, vision of unity in a fragmented state." - FEST - Link

"At its heart this is a deeply moving piece about the nature of friendship and as it hurtles towards its conclusion the piece has a real, visceral power." - THE PUBLIC REVIEWS - Link