Manwatching
Royal Court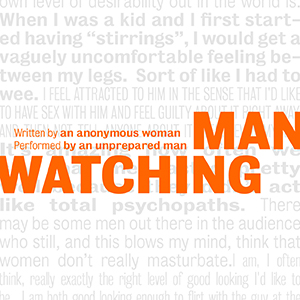 Written by an anonymous woman
Performed by an unprepared man
So I think it's fair to say that most women almost definitely do masturbate. We just wait to discuss it until we're in an oddly anonymous but public situation like this one."
A funny, frank, and occasionally explicit insight into heterosexual female desire, read out loud by a man.
Each show begins with a male comedian being given a script they have never seen before. They will read the script for the first time, out-loud live in front of an audience; all about what one woman thinks about when she thinks about sex and men.
This piece is a work-in-progress being piloted at the Edinburgh Festival. It is being developed in collaboration with the Royal Court Theatre.
With direction and dramaturgy by Lucy Morrison, and dramaturgical input from Ryan Nobel, Lisa Heledd Jones, and Christopher Brett Bailey.
Special thanks to previous performers Tim Key, Mike Wozniak and Nathaniel Martello-White.
Five performances as part of EARLIER/LATER, a series of early morning and late night one-off shows programmed by Paines Plough.
10 August, 22.30   Nish Kumar
14 August, 10.00   Marcus Brigstocke
15 August, 22.30   James Acaster
19 August, 22.30 Joe Lycett
21 August, 10.00   Nick Helm