Love Letters to the Home Office
Katharine Rose Williams Radojicic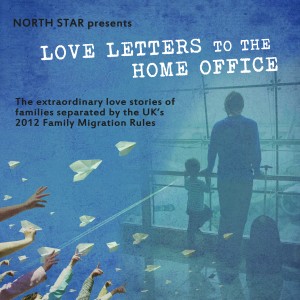 North Star presents Love Letters to the Home Office.
Written by Katharine Rose Williams Radojičić and the Love Letters to the Home Office authors.
"There's a wee boy in Chandler, Arizona, USA. He's 15 months old and his name is Robert. He has some baby toys but his favourite thing in the entire world isn't a toy. Robert loves his mum's Samsung tablet. He calls it 'Da da' and carries it around the house all the time. Robert hasn't seen his father since he was 6 months old." – Gillian
Love Letters to the Home Office brings to life the true stories of people separated today by the UK's 2012 Family Immigration Rules. The Rules means that our human rights – specifically, our rights to live in the UK and with our family – are dependent on how much we earn.
"I am a British citizen and I have been married for one and half years. My wife is Syrian, living in what is now a war zone. I can't bring my wife to the UK. I live with constant worry. I wake, each night, with nightmares." – Sam
Love Letters to the Home Office is about extraordinary moments in extraordinary relationships that cross borders, oceans and seas. It is about love in the face of separation, and the extreme lengths people are forced to go to in order to be together.