Gomaar Trilogy
Ultima Thule, Big in Belgium, Richard Jordan, Theatre Royal Plymouth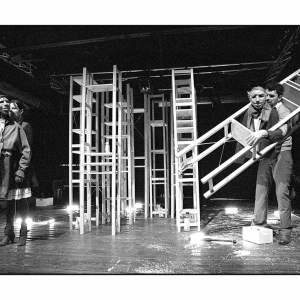 Gomaar Trilogy: Head over Heels; Look Who's Here; Always Something Wrong
Three stories, one life. The life of Gomaar. Gomaar the farmer's son, behind the behind of a horse. Gomaar the college student in the era of Che. Gomaar divorced, but still riding his Norton.
Filled with love and irony, Wim DeWulf's acclaimed Gomaar Trilogy for award-winning Belgian theatre company Ultima Thule comprises three stories which can stand alone or be enjoyed in any sequence as a trilogy.
Each play combines thrilling storytelling and puppetry to create a funny and deeply human universal folk tale where disillusionment with life is set against the poetic panorama of a village, a city and a family.
Head Over Heels: 7, 8, 12, 15, 19, 22 August
Look Who's Here: 9, 13, 16, 20, 23 August
Always Something Wrong: 10, 14, 17, 21 August