Borderlands
Dudendance Theatre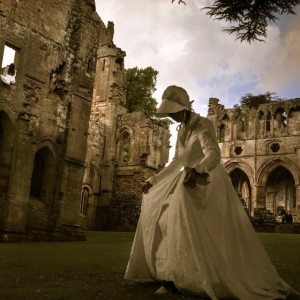 OFFSITE at Dryburgh Abbey, meet in Summerhall Lobby
Enjoy a trip to the romantic and beautiful Border Abbey of Dryburgh to see Dudendance's outdoor performance installation. Borderlands draws on the juxtaposition of spirituality and war in a meditation on conquest and contemplation.
Inspired by paintings of the Renaissance, Heather MacCrimmon's costumes are designed for shape-shifting and movement flow. The slow pace and sculptural movement unfolds like a dream around the audience who are guided to discover different views into the ruins.
A highly visual landscape theatre accompanied by Andante Chamber Choir singing renaissance polyphony.
Hosted by Historic Scotland and supported by Creative Scotland.