17 Border Crossings
Lucidity Suitcase Intercontinental in association with Aurora Nova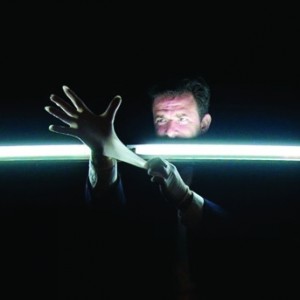 A trip around the world via storytelling at its most effortlessly fluent, 17 Border Crossings starts with a man at a desk on an empty stage and ends up everywhere but. The itinerary: a worse-for-wear Communist-era train traveling from Prague to Belgrade, the wheel well of a transatlantic jet to Heathrow, and 15 other border crossings recreated with magnetic, offhanded charm by award-winning theater director, designer, and raconteur Thaddeus Phillips.
A chair, table, and bar of lights become the imagined settings for invasive body searches at Charles de Gaulle, ayahuasca experiments in the Amazon, KFC-smuggling in Palestine, and run-ins with Ace of Base on Croatian ferries in this engrossing look at the perplexing ins and outs of our fragile right of passage.
"Brilliant and evocative" (Westword.com).
"Brilliantly designed and performed" – The Guardian
"He's a born raconteur, Phillips, capable, I'd guess, of making almost any material sing. These, however, are exquisite miniatures, full of life and character, and staged with an effortless 'empty space' theatricality". – Matt Trueman (FESTMAG)
Reviews
"Phillips is a fluid, shifting storyteller, something of a conjuror. As a piece of performance it is technically brilliant, dizzyingly so" The Stage - Link

"Thaddeus Phillips's globetrotting solo show checks out the absurd nature of the guards policing the world's frontiers" The Times - Link

"an expertly performed, engrossing anthology of engaging global stories"-To Do List - Link